Lippert Components to Launch New European Branding Initiative as Well as Several New Products at This Years Caravan Salon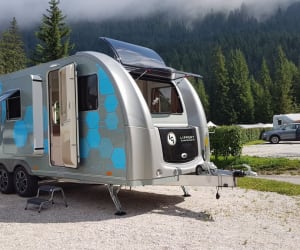 August 23, 2017
Elkhart, Indiana — Over the last six months, Lippert Components ("LCI®"), a supplier of components for the leading original equipment manufacturers ("OEMs") of recreational vehicles ("RVs") and adjacent industries, has been working towards a new branding initiative for the European Caravanning Industry. The goal of this branding initiative is twofold; 1) To present a refreshed, updated look for the European Caravanning Industry and 2) To present a unified, "one company" look for all of the companies LCI has acquired in Europe.
"Over the last 16 months, Lippert Components has acquired four different companies in Europe: Project 2000, Sessa Klein, Metallarte and RV Doors," said Jarod Lippert, Vice President of Marketing & Public Relations for Lippert Components. "As we continue to expand in the European caravanning industry, it became apparent that LCI needed a new set of brand standards that would be adopted by all of our European partners, both current and future. This unified look makes it much easier to tell the LCI story in Europe now, as well as in the future."
Lippert continued, "This year will be our 4th Caravan Salon, and our first presenting all of our products in one booth in Hall 5. In our booth, we will have a combination of LCI, Project 2000, Metallarte, RV Doors as well as Sessa Klein products. This is very exciting for us to finally have the space to showcase all of our products in one place."
LCI will hold a press event on Saturday, August 26th at 5:00 PM in their newly redesigned booth at Hall 5, stand C04 of Messe Düsseldorf. At this press event, LCI will talk about new products, their recent expansion into Europe, as well as explain new products that are on display. Hall 5 is part of Messe Düsseldorf's newly revised show plan that expands the supplier showcase beyond just one hall. LCI will have a new stand in Hall 5 that allows them to increase their footprint to almost six times the previous stand space.
Being shown for the first time this year will be a "Smart Caravan," featuring four slide-outs and controlled by LCI's OneControl® app. This system allows the caravan owner to control the slide-outs, multiple lighting zones, door locks, heating and water level monitoring. LCI will also unveil a new one-touch leveling system on this caravan that was developed from its Ground Control® TT leveling technology in the U.S. Also on display will be a caravan window with variable-transparency glass, designed by Sessa Klein and Vision Systems. This Suspended Particle Device (SPD) is capable of electronically darkening the glass with a control system on a smart device. It will permit six levels of light adjustment from opaque to transparent.
To showcase their scope of products in Europe, a new website is being developed and will debut at Caravan Salon (www.lci1.com/eu) The website will house information on all LCI European products, support documents, as well as press releases in order to cater to the European caravanning community. It will also replace the current websites of Metallarte, RV Doors and Project 2000. Finally, a new LCI catalogue made specifically for the European caravanning market will be distributed at Caravan Salon and combines all of LCI's, and their acquired companies, products.
"The combination of the catalogues and website makes it easier to tell the LCI story in Europe," said Larry Revelino, LCI's Director of Sales for Europe. "As we continue to develop strategic relationships with the European caravan manufacturers, the "One LCI" story makes it easier to show these partners where we are going as a company, and that the European caravanning industry is of the utmost importance to LCI."
For more information, visit us at www.lippertcomponents.com
---
From over 140 manufacturing and distribution facilities located throughout North America, Africa and Europe, Lippert™ supplies a broad array of highly engineered components for the leading manufacturers of recreational vehicles, automobiles, watercraft and prefab homes. It also operates in adjacent markets, including hospitality, transportation, construction and agriculture. Lippert™ serves a wide range of aftermarket segments, providing high-quality products for the recreational vehicle / caravanning, automotive and marine industries. With over 12,500 team members and a diverse portfolio of best-in-class brands, Lippert™ adopts a team-based business philosophy and has proven that, by putting people first, the possibilities for growth and development are truly endless.
Lippert
52567 Independence Ct.
Elkhart, IN 46514
Email: marcom@lci1.com