Lippert Components to Manufacture and Sell Waste Master All in One Sewer Management System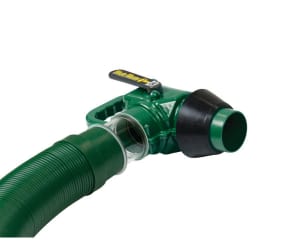 September 16, 2014
Elkhart, Ind. — Lippert Components, Inc. (LCI®) announced today it has purchased intellectual property from Drain Master, LLC, and will now manufacture and sell the patent-pending Waste Master™ All-in-One Sewer Management System. LCI will showcase the Waste Master system on Forest River RV brands during RV Open House Week in Elkhart, IN from September 16–18.
"We are excited to offer this new sewer management system," said LCI CEO Jason Lippert. "We have many OEM customers already interested in carrying the system, and when end-users see how the Waste Master All-in-One simplifies, sanitizes and contains the waste disposal process, we believe they'll be asking their OEM of choice to make this system standard."
The Waste Master All-in-One Sewer Management System hose and nozzle are always connected to the RV holding tank outlet discharge pipe — so there's no need to handle, connect or disconnect the old-fashioned open-ended and often contaminated sewer hose. Instead, the Waste Master hose is secured in a readily accessible, permanent storage compartment attached to the RV chassis. Unlike traditional hose coils that trap debris, the tough, wireless Waste Master hose is designed with its helical coil on the outside, while the inside is much smoother, preventing waste from getting trapped inside the hose. The permanently-connected nozzle is molded with an easy-grip handle, an integrated shut-off valve and a clear view port that allows the user to see when waste has completely evacuated, helping ensure the tanks and hose are clean. The nozzle also features a 90 degree discharge port that is easy to fit and secure into any sewage inlet.
Waste Master product developer Doug Swarts said that after his first experience more than 15 years ago emptying his RV's holding tank, he decided to design a better sewer management system. "I was on my hands and knees reaching for the sewer valve under the chassis with my nose about 3 inches from the smelly sewer hose," said Swarts. "Every RVer wants a better way, so we developed a permanently-connected, easy-to-use, environmentally-friendly system that helps eliminate waste spills."
Industry veteran Tom Faludy helped guide the final stages of product development. "LCI is the ideal home for the Waste Master as its components are housed in a chassis-mounted storage enclosure," said Faludy. "Waste Master not only enhances Lippert's OEM product line, but also provides Lippert a new aftermarket accessory for all RV dealer stores. This product can impact every RV with a holding tank. The square sewer hose storage bumper should become a relic of the past — no one will want to handle and store that nasty open hose again."
The UV-protected Waste Master Sewer hose features technology that keeps it extended during use to the exact length required, going from 5-1/2 feet compressed to up to 18 feet extended. The hose is resistant to abrasions or punctures, and features bonded cuffs that ensure a strong, permanent seal to help prevent waste from dripping. The nozzle's internal valve allows users to easily shut off sewage flow should the ground sewer inlet begin to back up, as well as close off the system at its terminal end to prevent waste from leaking.
LCI Chassis Product Manager Brian Hess believes this patented and patent-pending system will change RV sewer management. "Every RVer will tell you their least favorite part of the RV experience is emptying the holding tanks," said Hess. "Let's face it, the process has traditionally been messy and unsanitary. But it doesn't have to be. Our Waste Master hose and attached nozzle simply extend out of the front compartment door, while the other end permanently connects to the existing sewer outlet terminal, utilizing time-tested cam lock technology. Traditional RV hose bayonet fittings can leak, but industrial grade cam locks have been used in the liquid transportation industry for decades and are proven to provide a strong, reliable seal and prevent disconnection during transit that could occur with bayonet fittings."
LCI launched the basic Waste Master aftermarket kit in early August 2014 with a comprehensive marketing campaign at the Forest River Owners Group International Rally in Goshen and has since showcased the product at several rallies and RV shows, generating RVer interest and product feedback.
Contact Brian Hess at bhess@lci1.com for more information about the Waste Master All-in-One Sewer Management System.
---
From over 140 manufacturing and distribution facilities located throughout North America, Africa and Europe, Lippert™ supplies a broad array of highly engineered components for the leading manufacturers of recreational vehicles, automobiles, watercraft and prefab homes. It also operates in adjacent markets, including hospitality, transportation, construction and agriculture. Lippert™ serves a wide range of aftermarket segments, providing high-quality products for the recreational vehicle / caravanning, automotive and marine industries. With over 12,500 team members and a diverse portfolio of best-in-class brands, Lippert™ adopts a team-based business philosophy and has proven that, by putting people first, the possibilities for growth and development are truly endless.
Lippert
52567 Independence Ct.
Elkhart, IN 46514
Email: marcom@lci1.com