Lippert Components to Manufacture Sell and Distribute 360 Siphon Rv Vent Cap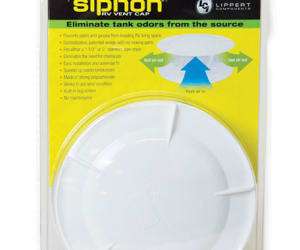 May 13, 2015
Elkhart, Ind. —Lippert Components, Inc. (LCI®) announced today it has entered into an exclusive agreement with 360 Products, Inc., providing LCI the rights to manufacture, sell and distribute the 360 Siphon RV holding tank vent cap to the RV industry.
"We are always on the lookout for products that improve the RV lifestyle, and the patented 360 Siphon RV vent cap is the perfect complement to our new Waste Master sewer management system and Flow Down adjustable RV drain support system," said Andy Murray, LCI Vice President of Sales. "Nobody wants holding tank odors inside their RV. The 360 Siphon's design requires no moving parts or maintenance and provides a simple solution. The 360 Siphon utilizes the Venturi effect and Bernoulli's principle to suck odors out of the holding tanks and eliminate the need for chemicals and complicated mechanized vent cap products that don't solve the problem."
Unlike harsh tank chemicals that can only treat symptoms of a bigger problem, the 360 Siphon RV vent cap removes odors from the source — the holding tanks — and exhausts them out the roof vent before they have a chance to invade the RV living space. By design, the patented 360 Siphon can only create an updraft, expelling odors and fostering an oxygen-rich environment to speed up waste breakdown. Even environmentally-friendly tank additives can take up to 48 hours after use to fully oxygenate a standard holding tank. The 360 Siphon acts immediately after installation in any wind condition (with or without a breeze) to create the ideal environment for proper decomposition, so caustic chemicals and perfumed cover-ups are no longer needed.
360 Products President Bob Cravens believes LCI's vision of enhancing RVers camping experience and its broad customer base will get the 360 Siphon to RVers who need it most. "Lippert Components is clearly leading the way with its recent commitment to modernizing RV waste management, and we expect LCI's dedicated research and development team will help us improve and develop more innovative waste management products going forward," said Cravens. "Holding tank odors were historically a bad side-effect of self-contained RV living. The 360 Siphon solves the issue so RVers can breathe easier, enjoy an odor-free living environment and stop throwing money at chemical cover ups."
The 360 Siphon OEM version is available on several popular RV brands, and an easy-to-install aftermarket kit is available through aftermarket channels. The 360 Siphon aftermarket kit can be refitted to an RV in less than 20 minutes with a screwdriver and a putty knife (to scrape off any old sealants) and replaces basic factory-installed vent caps. Watch the 360 Siphon product video; email OEMSales@lci1.com or aftermarketsales@lci1.com; or visit lippertcomponents.com for more information.
---
From over 140 manufacturing and distribution facilities located throughout North America, Africa and Europe, Lippert™ supplies a broad array of highly engineered components for the leading manufacturers of recreational vehicles, automobiles, watercraft and prefab homes. It also operates in adjacent markets, including hospitality, transportation, construction and agriculture. Lippert™ serves a wide range of aftermarket segments, providing high-quality products for the recreational vehicle / caravanning, automotive and marine industries. With over 12,500 team members and a diverse portfolio of best-in-class brands, Lippert™ adopts a team-based business philosophy and has proven that, by putting people first, the possibilities for growth and development are truly endless.
Lippert
52567 Independence Ct.
Elkhart, IN 46514
Email: marcom@lci1.com