Lippert Components to Reveal New Onecontrol Products at 2017 Rvia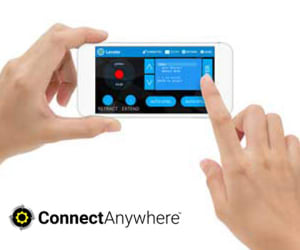 November 20, 2017
Elkhart, Ind. — Lippert Components, Inc. (LCI®) is set to unveil its OneControl® advances at the 2017 Recreational Vehicle Industry Association's (RVIA) National RV Trade Show November 27-November 30 at the Kentucky Expo Center in Louisville, Kentucky. LCI will display their Connected RV at booth 261 during the show.
LCI's Connected RV will showcase LCI's most advanced technologies to date and several new OneControl products including OneControl ConnectAnywhere™, OneControl Wireless™, OneControl Voice™ and OneControl Support™.
LCI invites all RVIA attendees to come see these innovations in action at Booth 261. Representatives from LCI, and its subsidiary LCI Technologies, will be offering guided tours and product demonstrations of the OneControl-equipped Connected RV and OneControl products during the show.
OneControl ConnectAnywhere™ technology utilizes cellular and satellite connections, allowing RVers the ability to remotely monitor and control many of their coach's features via the OneControl mobile app. ConnectAnywhere-equipped RVs provide remote access to common RV functions and accessories such as electronic leveling systems, awnings, slide-outs, lighting, HVAC, water and tank levels and more.
From remote boondocking sites to low service areas and "dead zones" in National Forests and Parks, OneControl ConnectAnywhere™ and OneControl Wireless™ technology powers the recreational lifestyle in a way the RV industry has never explored before. With the OneControl Wireless™ system, RVers have total control of their RV while in range of our secure and long range Wireless Gateway - the secure wireless connection developed by LCI Technologies with our unique and patented security protocols.
LCI's Connected RV will also display and demonstrate OneControl Voice™, the RV industry's first-ever fully integrated voice-controlled system. RV owners can now control their coach using the fastest growing technology in the consumer electronics market.
Additionally, LCI will showcase OneControl Support™. OneControl Support will help revolutionize the RV industry and make manufacturers and dealers alike rethink how they provide RV service.
The OneControl mobile app connects to your RV and allows complete control of many of your RV's most important functions. From awnings and lighting to automatic leveling systems, water tanks and more, control your home away from home with just the push of a button.
"The Connected RV features our latest technology advancements. The OneControl family of products represents some of the biggest innovations our Electronics Division created," commented Andy Murray, LCI's VP of Sales. Murray continued, "We're undoubtedly excited to display the OneControl 'smart' products as these features have been some of the most requested by the next generation of RVers."
LCI invites all attendees to join them for Happy Hour where representatives from LCI will be providing a demo of the Connected RV and answering questions. Happy Hours will take place on Tuesday, November 28th and on Wednesday, November 29th from 2:00pm-4:00pm at booth 261.
---
From over 140 manufacturing and distribution facilities located throughout North America, Africa and Europe, Lippert™ supplies a broad array of highly engineered components for the leading manufacturers of recreational vehicles, automobiles, watercraft and prefab homes. It also operates in adjacent markets, including hospitality, transportation, construction and agriculture. Lippert™ serves a wide range of aftermarket segments, providing high-quality products for the recreational vehicle / caravanning, automotive and marine industries. With over 12,500 team members and a diverse portfolio of best-in-class brands, Lippert™ adopts a team-based business philosophy and has proven that, by putting people first, the possibilities for growth and development are truly endless.
Lippert
52567 Independence Ct.
Elkhart, IN 46514
Email: marcom@lci1.com