Lippert Components Will Debut All New Triple Play Ramp Door on Forest River Work and Play and Coachmen Adrenaline Toy Haulers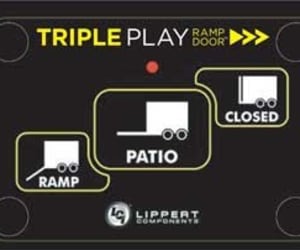 September 21, 2018
Elkhart, Ind. — Lippert Components, Inc. (LCI®) announced today that Forest River Work and Play as well as Coachmen Adrenaline brand toy haulers will debut it's all new ramp door technology at this year's Elkhart RV Open House, September 24-27. The Triple Play Ramp Door™ is built on patented Gorilla Lift™ zero-gravity technology and boasts a 1,500-pound patio capacity as well as a 3,000-pound ramp door capacity.
The Triple Play Ramp Door's intelligent design allows owners to position the ramp door to three different phases; closed, 90-degree patio position, and ramp position, with just the push of a button. This allows for quick and easy setup and teardown that can be done by anyone in the family, regardless of age, strength, or ability, because the ramp door's size and weight is no longer an issue.
The Triple Play's design revolutionizes setup and teardown by allowing the ramp cables to be engaged during the setup and teardown process through its patent pending system. This is in contrast to the design of other ramp doors in the market today, which force the owner to detach and reattach cables during deployment and storage.
The Triple Play Ramp Door also offers several safety features like an activation key which is LCI "Keyed Alike" compatible, allowing the owner to disengage the system when desired. An integrated smart sensor can detect if there is an obstruction under the ramp door when it is being deployed. If it senses an obstruction, it will stop deploying. Likewise, when the door is being raised to the towing position, it will pause before it completely closes in order to allow the owner to make one final visual safety check.
"We are excited to debut this new revolutionary ramp door system that LCI has produced. A lot of customers, both young and old, have concerns when operating the old style heavy ramp doors for various reasons. This will allow them to enjoy the camping experience without worrying about the weight of the ramp door. This brings the rear end of my toy hauler up to par with the rear gate of a Luxury SUV," commented Kevin Finn, General Manager for Forest River Work and Play.
"Our engineers have hit a true home-run with this product both for its ease of use as well as all the safety benefits it offers the end user," commented Dominick Bilancio, Ramp Door Product Manager for LCI. Continued Bilancio, "When we developed this product, we sat down as a collective group and listed out all the issues that an end user would have with the ramp doors in the market and came up with a solution that is undoubtedly easier to use; with some great added safety features that RVers will be sure to appreciate."
---
From over 140 manufacturing and distribution facilities located throughout North America, Africa and Europe, Lippert™ supplies a broad array of highly engineered components for the leading manufacturers of recreational vehicles, automobiles, watercraft and prefab homes. It also operates in adjacent markets, including hospitality, transportation, construction and agriculture. Lippert™ serves a wide range of aftermarket segments, providing high-quality products for the recreational vehicle / caravanning, automotive and marine industries. With over 12,500 team members and a diverse portfolio of best-in-class brands, Lippert™ adopts a team-based business philosophy and has proven that, by putting people first, the possibilities for growth and development are truly endless.
Lippert
52567 Independence Ct.
Elkhart, IN 46514
Email: marcom@lci1.com