Lippert Components Wins Trailblazer Award at Dreamforce 2017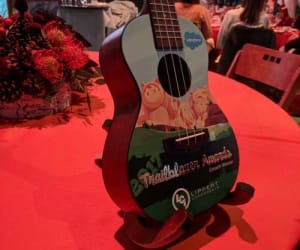 November 17, 2017
Elkhart, Ind. — Lippert Components, Inc. (LCI®) announces that the Company was awarded the Trailblazer award for Growth at the 2017 Dreamforce conference held November 6th – November 9th in San Francisco, California. Dreamforce, an annual conference hosted by Salesforce, brings together Salesforce users, customers and vendors, for a weeklong networking and educational conference.
A total of five Trailblazer awards were awarded in five categories: Innovation, Growth, Trust, Equality and Inspirational. LCI was awarded the Trailblazer award for Growth, showing exceptional growth in customer service efforts. Judges evaluated nominees based on their overall vision, teamwork, transformation and learning as they relate to use of Salesforce software.
Specifically, LCI received the Trailblazer Growth award because of the Company's customer service improvements and implementation of Salesforces' Customer Relationship Management (CRM) software. LCI's integration of Salesforce products and their overall operations strategy has resulted in over 200 internal Salesforce users across ten of the Company's departments. This has drastically improved the Company's customer service interactions and has created a more fluid dynamic when working with customers. Moreover, LCI's implementation of the Salesforce CRM has been a true catalyst for improvements among team member efficiencies, inter-company collaboration and overall company growth.
"Customers and LCI team members alike have experienced the monumental turnaround of the company culture. Identifying [the Company's] core values has turned customer service from a complaint department to a partnership where our customers rely on us for technical advice, parts identification and ordering services," stated Nicole Sult, LCI's Director of Customer Service. "LCI team members are happier, and in turn, we have a low rate of attrition in our contact center," continued Sult.
"We're exploring some really inventive concepts that we're very excited about. Along with all of our internal efforts, our partnerships with tech-savvy businesses like Salesforce have enabled us to create unique solutions to industry-wide problems," commented Jamie Schnur, LCI's Chief Administrative Officer.
---
From over 140 manufacturing and distribution facilities located throughout North America, Africa and Europe, Lippert™ supplies a broad array of highly engineered components for the leading manufacturers of recreational vehicles, automobiles, watercraft and prefab homes. It also operates in adjacent markets, including hospitality, transportation, construction and agriculture. Lippert™ serves a wide range of aftermarket segments, providing high-quality products for the recreational vehicle / caravanning, automotive and marine industries. With over 12,500 team members and a diverse portfolio of best-in-class brands, Lippert™ adopts a team-based business philosophy and has proven that, by putting people first, the possibilities for growth and development are truly endless.
Lippert
52567 Independence Ct.
Elkhart, IN 46514
Email: marcom@lci1.com