Lippert Contributes Volunteer Hours and Monetary Donation to the Casa Marta Foundation in Italy for Support of its Causes and Community Impact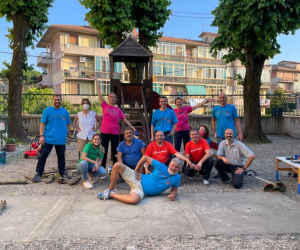 August 12, 2021
Elkhart, Ind. — Lippert Components, Inc. (Lippert™) has partnered with the Casa Marta Foundation in Florence, Italy to help support the construction of Casa Marta – Pediatric Hospice of the Tuscany Region. The company provided a donation of 50,000 euros along with volunteer hours to contribute to the production of the new house.
The Casa Marta Pediatric Hospice aims to provide responses to the healthcare needs of children affected by chronic, complex and/or terminal pathologies by hosting them, together with their families, in a comfortable environment during a period of particular crisis in their lives. Lippert recognized the incredible impact of this foundation and made the decision to provide contributions to the cause to ensure that children and their families continue to receive the supportive care they need during those trying times. Lippert team members were delighted to get on board and have provided more than 100 hours so far towards rehabbing and improving the house to get it across the finish line.
Nora Silini, Leadership Development Coordinator of Lippert Italy, described why this particular foundation was chosen. "It's a unique project, creating a home-style hospice for children in Florence as there is only one in the whole country," she explained. "Lippert Italy is helping Martacappelli because we can really see the difference we make with our help, seeing an organization grow organically from the work of two parents who lost their daughter. Finally, through the help offered by their friends and then Lippert, the foundation is becoming a structured charity that helps other houses for hospitalised kids."
Benedetta Fantugini, President of the Casa Marta Foundation, expressed a sincere appreciation for Lippert's contributions to the organization. "The Casa Marta Foundation relies heavily on fundraising to achieve its great and ambitious goal: a home that allows children with chronic and/or terminal illnesses and their families to experience moments of sharing and support in a family environment and welcoming as a "home" while respecting the characteristics of a highly qualified healthcare facility," she stated. "I acknowledge with real gratitude the transfer of 50,000 euros received on April 6, 2021, to the account in the name of the Casa Marta Foundation; and I express my sincere thanks to all of you from me and the Directors of the Foundation with whom I share this wonderful project."
Lippert is elated to help the Casa Marta Foundation continue to push their mission forward. "This project is a continuation of our efforts to make a difference in all communities, and we are beyond joyful to be able to make an impact on a global level," said Michilah Grimes, Director of Corporate and Community Impact. "This is a great example of our goal to leave a global footprint; and while we are overjoyed about the impact we had here, we are excited for what our future global impact looks like as well, as we are only just getting started!"
---
From over 140 manufacturing and distribution facilities located throughout North America, Africa and Europe, Lippert™ supplies a broad array of highly engineered components for the leading manufacturers of recreational vehicles, automobiles, watercraft and prefab homes. It also operates in adjacent markets, including hospitality, transportation, construction and agriculture. Lippert™ serves a wide range of aftermarket segments, providing high-quality products for the recreational vehicle / caravanning, automotive and marine industries. With over 12,500 team members and a diverse portfolio of best-in-class brands, Lippert™ adopts a team-based business philosophy and has proven that, by putting people first, the possibilities for growth and development are truly endless.
Lippert
52567 Independence Ct.
Elkhart, IN 46514
Email: marcom@lci1.com