Lippert Debuts New Scout Mobile as Part of its Lippert Scouts Community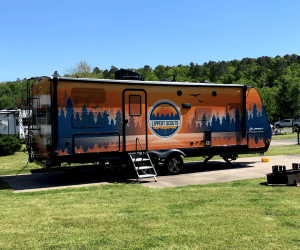 May 13, 2021
Elkhart, Ind. — Lippert Components, Inc. (Lippert™) is excited to present its new and first-ever Scout Mobile: a travel trailer with numerous Lippert aftermarket upgrades to serve as an on-the-road exhibit of Lippert's passion for creating the ultimate camping experience. Directly connected to Lippert Scouts: The Community, the Scout Mobile showcases an abundance of game-changing Lippert products and provides an up close and personal connection with camping and the Lippert community.
The main purpose of the Scout Mobile is to provide a "home on the road" for campers and offer a great way for Lippert team members to connect directly with Scouts and the community. With its vivid appearance and overall energetic persona, Lippert team members anticipate the Scout Mobile to make a bold statement and bring the "wow factor" while traveling and arriving at every destination. Lippert's Customer Experience team and Scouts leaders are hoping the Scout Mobile will encourage people to come say hello, ask questions, and learn more about Lippert Scouts.
"As Lippert is dedicated to delivering a second-to-none customer experience, the Scout Mobile introduces a fresh, new approach for getting to know customers and learning about their stories," said Craig Joachim, Consumer Communities Manager. "It was designed to help connect people, places, and things, and to hold a place within the community that cares for campers and their families. A tremendous result of Lippert pioneering, the Scout Mobile displays Lippert's unwavering dedication to being forward-thinking to cultivate the ideas, concerns and questions of its fellow beloved campers. We are so excited to hit the road and see what's in store!"
Richelle Gingerich, Lippert's Customer Experience Coordinator, also commented with a welcoming message. "If you see us at a campground, please join us around the campfire!" she stated. "We invite you to use the hashtag #LippertScoutMobile to share your stories, ask questions, inspire others, provide feedback, get help with an issue you might be having with your RV, and share the awesome photos you capture when the Scout Mobile is spotted. Our Scout Mobile is a home for people to connect and feel connected, and it is the ultimate camping experience we want everyone to be a part of. Be sure to follow the Lippert Campground Project on Facebook to keep up with the Scout Mobile as we travel across the U.S. and stay in the know about where we will go next!"
What is "Lippert Scouts"?: Launched in November of 2020, Lippert Scouts: The Community is an RVing and camping forum that was created to help give the team at Lippert the valuable feedback and insights needed to enhance campers' time spent outdoors and on the road with better products and services. From surveys to live chats with Scouts team members, all feedback is used to drive product innovation and development for the team at Lippert — all so that the team can better serve its customers for years to come. "You share, we listen. It's really as simple as that."
---
From over 140 manufacturing and distribution facilities located throughout North America, Africa and Europe, Lippert™ supplies a broad array of highly engineered components for the leading manufacturers of recreational vehicles, automobiles, watercraft and prefab homes. It also operates in adjacent markets, including hospitality, transportation, construction and agriculture. Lippert™ serves a wide range of aftermarket segments, providing high-quality products for the recreational vehicle / caravanning, automotive and marine industries. With over 12,500 team members and a diverse portfolio of best-in-class brands, Lippert™ adopts a team-based business philosophy and has proven that, by putting people first, the possibilities for growth and development are truly endless.
Lippert
52567 Independence Ct.
Elkhart, IN 46514
Email: marcom@lci1.com