Lippert's Customer Experience Team Hosts Successful Second Annual Consumer Event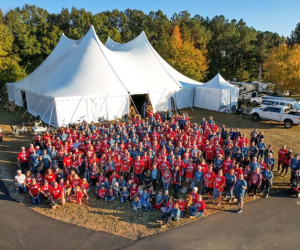 November 23, 2022
Elkhart, Ind. – Lippert Components, Inc. (Lippert™), a supplier of a broad array of highly engineered components for the leading original equipment manufacturers ("OEMs") in the recreation and transportation product markets, and the related aftermarkets of those industries, announces today that it has successfully completed its second annual consumer event, the "Lippert Getaway," during the last week of October in Pine Mountain, Georgia. The Getaway consisted of five full days of learning, listening and fellowship amongst over 390 attendees as well as Lippert team members from multiple departments including Customer Experience, the Technical Institute, Plant 82 Service, Plant 68, the Lippert Care Center, Marketing, Executive Leadership, Project Management, Furrion and Corporate and Community Impact (seRV).
In total, 394 Lippert Scouts and 71 Lippert team members attended the event, occupying 147 campsites at Pine Mountain RV Resort and representing 36 states and 23 different RV makes. As a consumer-focus group, the Lippert Scouts was launched in 2020 with the goal of bringing 50-100 super-users together to provide product feedback and spread the word about all the great things that Lippert does for the RV community. Now, the group has 17,000 members dedicated to bettering the RV lifestyle through sharing knowledge and experiences, providing product feedback direct to Lippert and taking part in exclusive opportunities that drive the RV industry forward.
At the Getaway, Lippert conducted sixteen seminars revolving around technical training and the RV lifestyle. Attendees learned tips and tricks on all things RVing from technical troubleshooting on common RV issues, to route planning and RV interior design. Lippert invited several of its Brand Ambassadors, Influencers and Partners who also gave insightful seminars on the RV lifestyle and RV maintenance. These special guests included b.e.happe, Chasing the Cashes, Enjoy The Journey, Finding Our Someday, Less Junk More Journey, Matt's RV Reviews, Restless Russells, Paws For Love, The Campoholics, Totalmente Perdidos and The Flipping Nomad.
Lippert set up a new space at the Getaway this year called the Innovation Tent. Across three days, event attendees were able to meet with several teams across Lippert to provide insight on product design, service and support, and lifestyle experiences. Over 1,000 points of feedback were collected in the Innovation Tent, helping Lippert to better understand consumer needs.
During the Getaway, Lippert provided attendees an opportunity to schedule service as well as install upgrades to their rig while they enjoyed the event. As a result, Lippert served 54 customers and completed 67 service tickets.
Lippert Cares also launched a new platform called seRV with Purpose at this year's Getaway. Under the new program, a total of 250 volunteers packed 1,200 bags for the Boys & Girls Clubs of America and cleaned up the trails at F.D. Roosevelt State Park.
In true Getaway fashion, there was also plenty of great food, great fellowship and nightly entertainment following dinner. Live music was performed by singers John King and Cody Webb while laughter was all around when comedian Brent Terhune took the stage. Nightly entertainment and daily activities also included trivia night, a Halloween bash, a fall festival, a corn hole tournament, knitting instruction, pumpkin painting and much more.
New to the Getaway this year, Lippert also welcomed program sponsors Fulltime Families, Harvest Hosts and Outdoorsy to be on-site and available to answer questions about and promote their products and services. For shopping opportunities at the campground, Lippert invited several vendors to the event to promote new and exciting products including Emberglow, Refuge Mercantile, The Urban Native, Wild Leap Brewery, Southern Local Nuts, Bulldog Supply, Atlanta Tent Company, Magnum AV, Callaway Gardens, Wild Animal Safari, Face Painting by Brittany and Tulla White Catering, Studio Calthea, RVing Spirit / Wash Wax All, Kleen Tank, Gabe's Pride and Venture Wipes.
"We are pleased with the turnout of our second Getaway," said Nicole Sult, Vice President of Customer Experience. "The atmosphere across the event was like a huge reunion celebration of old and new friends. We have learned that RVers are seeking community, and we hope the Getaway will be an annual meeting point for years to come."
During the event, Lippert announced the date and location of its 2023 Getaway, which was met with a standing ovation. It will be held on September 19-23, 2023, at Redrock RV Park, an Open Road Resorts Property, in Island Park, Idaho.
---
With over 120 manufacturing and distribution facilities located throughout North America and EMEA, Lippert is a leading global manufacturer and supplier of highly engineered components and customized solutions dedicated to shaping, growing and bettering the RV, marine, automotive, commercial vehicle and building products industries and their adjacent markets. Lippert also serves a broad array of aftermarket industries, supplying best-in-class products designed to enhance recreational pursuits, both on the road and on the water. From powerful towing technology and automated RV leveling systems to boating furniture and one-of-a-kind shade solutions, Lippert combines strategic manufacturing capabilities with the power of our winning team culture to deliver unrivaled customer service, award-winning innovation, and premium products to every industry and person we serve.
Lippert
52567 Independence Ct.
Elkhart, IN 46514
Email: marcom@lci1.com