Lippert Staying Ahead of Industry Trends with Acquisition of RV Tent Company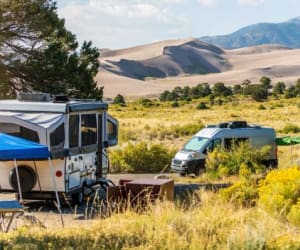 June 1, 2022
Elkhart, Ind. — LCI Industries (NYSE: LCII) (the "Company") which, through its wholly-owned subsidiary, Lippert Components, Inc. ("Lippert"), supplies, domestically and internationally, a broad array of highly engineered components for the leading original equipment manufacturers ("OEMs") in the recreation and transportation product markets, and the related aftermarkets of those industries, today announced that its subsidiary, Lippert Components Manufacturing, Inc., has acquired substantially all the business assets of T.J. Snuggles, Inc. (TJ Snuggles"), a company that manufactures custom tents for expandable RV trailers as well as cubical curtains and room dividers for hospitals.
Located in Bremen, Indiana, the company's 24,000 square foot facility has been providing tent and canvas solutions to the RV industry for nearly 55 years. With the addition of TJ Snuggles, Lippert acquires an array of quality canvas products, a highly skilled workforce, as well as additional cut-and-sew capacity, one of Lippert's core manufacturing capabilities, which is already 1,100 team members strong.
The acquisition is part of Lippert's overall strategy to stay ahead of the latest RV trends, while seeking ways to enhance the customer experience, especially as demographics and other industry data among campers continues to shift with the explosion of the outdoor lifestyle. RV expandable trailers have experienced a renaissance in recent years partly because of their affordability and partly because they are a logical next step from traditional tent camping. Expandable trailers allow the camper the basic luxuries of an RV without sacrificing the feeling of being outdoors. The acquisition also helps Lippert vertically integrate current product lines. Earlier in 2021, Lippert unveiled its "Vela" pop-up tent for Class B vans, which has been widely adopted in Europe and by several brands in North America.
"We're excited to expand our sewing capacity and capabilities by adding the industry expertise of TJ Snuggles. We welcome their 60 team members to the Lippert family and look forward to exponential growth ahead as our OEM partners continually add more expandable models to their lineup. Many younger, first-time RV buyers are looking for that bridge between tent camping and RVing, and the current trends in the market reflect this. This acquisition will help Lippert stay on top of these trends and allow us to innovate a better customer experience for expandable RV's." said Ryan Smith, Group President of Lippert North America.
---
From over 140 manufacturing and distribution facilities located throughout North America, Africa and Europe, Lippert™ supplies a broad array of highly engineered components for the leading manufacturers of recreational vehicles, automobiles, watercraft and prefab homes. It also operates in adjacent markets, including hospitality, transportation, construction and agriculture. Lippert™ serves a wide range of aftermarket segments, providing high-quality products for the recreational vehicle / caravanning, automotive and marine industries. With over 12,500 team members and a diverse portfolio of best-in-class brands, Lippert™ adopts a team-based business philosophy and has proven that, by putting people first, the possibilities for growth and development are truly endless.
Lippert
52567 Independence Ct.
Elkhart, IN 46514
Email: marcom@lci1.com