Lippert™ Announces Leadership Changes for its EMEA Group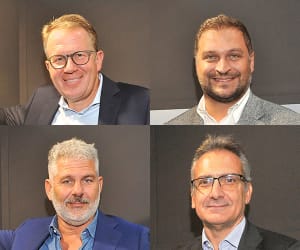 September 22, 2023
Elkhart, Ind. – Lippert Components, Inc. (together with its affiliates, Lippert™), a supplier of a broad array of highly engineered components for the leading original equipment manufacturers (OEMs) in the recreation and transportation product markets and the related aftermarkets of those industries, announced several leadership promotions in its EMEA (Europe, Middle East & Africa) Group.
Joerg Reithmeier has been promoted to the role of Group President EMEA. Joerg has had a long and decorated career in the automotive and caravanning industries spanning 27 years. Before becoming a Senior Advisor to Lippert in 2019, Joerg spent almost 10 years at the Erwin Hymer Group (EHG), serving on their board of directors from 2015 -2019. Joerg has served as Managing Director for Lippert's Caravanning group in Europe for the last year, bringing focus and structure to Lippert's Italian, German and Dutch caravanning businesses. In his new role, Joerg will oversee all of Lippert' Caravanning, Marine and Rail businesses in Europe, the Middle East and Africa.
Jason Lippert, President and CEO of Lippert, commented, "Joerg's extensive experience in the European Caravanning Industry will help keep us on the upward trajectory that our EMEA Group has experienced for nearly a decade. Joerg has been instrumental in bringing together the many complex businesses in Europe that we've acquired over the years that span several different countries and cultures. Our goal is to continually build Lippert into a brand in Europe that is every bit as strong as it is here in North America. I am looking forward to seeing Joerg further our customer relationships in Europe and take Lippert to the next level with a heavy focus on product innovation, culture and customer experience."
Joerg commented, "I enjoyed an exciting and very successful journey with Lippert in the last 4 years. We more than doubled our market share and became one of the most relevant suppliers of the caravanning industry in EMEA. The division is set up for further growth and I am looking forward to becoming Lippert's President for all EMEA businesses. I am honored to lead highly motivated and talented teams. They're outstanding and will help further grow our overall EMEA activities for caravanning, marine and rail. There is one thing, however, which is drives me even more: to help other companies to join Lippert's movement as a force for good and to motivate more and more European leaders to put purpose first and have impact on communities in Europe."
Lorenzo Manni has been promoted to the role of Managing Director, Caravanning EMEA, which serves all RV and caravanning markets outside of North America. He previously held the title of Vice President of Sales, Caravanning EMEA. Lorenzo joined the Lippert team through the acquisition of Project 2000 SRL, an Italian manufacturer of bed lifts, steps and TV brackets, back in 2016. Lorenzo has an extensive background in customer relationships and business development in the European Caravanning Market that span over a decade. In this new role, Lorenzo will oversee all aspects of Caravanning EMEA as well as the Asia Pacific region.
Jason Lippert commented, "Lorenzo has proven in recent years that he is one of the most respected and capable leaders in our industry. We are excited that he will take over this new position. Lorenzo has a wide experience in our industry and knows exactly what our customers need. This is the ideal basis to develop customer-oriented products, further improve our production processes and to further strengthen our partnerships with our customers."
"I feel humbled and honored to evolve my contribution to Lippert in the new role of Managing Director Caravanning EMEA," said Lorenzo. He continued, "In this new role I will work with the team to continue focusing on innovation and customer experience while keeping a close eye on market demands for cost efficiency as the upward market trend and commodities costs after Covid normalizes. We have a young, passionate and committed team and we will continue our growth path in the EMEA caravanning space."
Michele Checcucci will extend his responsibility as Chief Business Development Officer for EMEA beyond Europe and will help Lippert introduce the North American RV Market to new and exciting caravanning products. Michele will also assume the lead role in the new RV Aftermarket Division in Europe as well as continually push the DoubleCOOL™ brand of patented acrylic door solutions for the global retail grocery market. Additionally, Michele will be responsible for helping lead Lippert's mergers and acquisitions activities in Europe. Michele's own company was acquired by Lippert in 2017 and he has since helped Lippert acquire several more businesses in Europe.
Jason Lippert commented, "We see significant additional potential in the aftermarket area here in Europe. There is a huge range of aftermarket products from Lippert's North American markets which can be introduced to the EMEA market. Additionally, we want to start specific product development activities for our aftermarket segment. Michele has an outstanding instinct for new product trends. There is also a huge potential by bringing European designed products to North America. Nobody in Europe knows the industry there better than Michele. He will make all necessary efforts to add European products wherever possible to Lippert's product offering in the US. We are convinced that we couldn't have found anyone better than Michele for this role."
"It is with great honor that I am given the opportunity with this broader scope of my job responsibilities," said Michele. He continued, "The new organizational structure of Lippert EMEA represents a significant step towards our growth and development. I am delighted to be working alongside my friends and colleagues in their new roles, as well as our North American counterparts. We share a common vision, and I am determined to work together as a team to achieve the ambitious goals we have set for ourselves. This is an exciting moment for Lippert and everyone involved. I look forward to the future with confidence and am committed to contributing to the ongoing success of the company."
Gianluca Cricchi has been promoted to Vice President of Operations for Italy and Tunisia. Gianluca joined Lippert in 2021 when he was hired as the Caravanning Operations Director. In this new role, Gianluca will extend his previous responsibility as General Manager for the Caravanning Division of Lippert Italy and will oversee all Lippert operations in Italy and Tunisia, which primarily manufacture products for the Caravanning and Rail Industries. In his short time at Lippert, Gianluca has successfully streamlined many of Lippert's European caravanning operations which consist of several different complex businesses that came through acquisitions that span from caravanning components, acrylic windows and electronic components. Gianluca will continue to drive continuous improvement, leadership development and the streamlining of operational efficiencies across all of Lippert's European businesses.
Joerg Reithmeier commented, "With the appointment of Gianluca Cricchi we will have all Italian and Tunisian operations under one leader. Gianluca is not only highly experienced in all forms of operations and strategic production development but is also a great leader and is very much respected by our team members. Gianluca will bring our rail operations to the next level and will make sure that we leverage all potential synergies between our rail and caravanning facilities in Europe."
"I am proud and honored to be part of Lippert," said Gianluca. He continued, "Since I joined the company less than 3 years ago, I have seen tremendous growth in the organization. With this new structure we will further push to create synergy amongst all the best practices and competencies in the group. Our goal is to align the EMEA Group to Lippert's goals based on our 4 pillars, innovation, customer experience, leadership development and quality, to become the ultimate trend setters in the market."
---
With over 120 manufacturing and distribution facilities located throughout North America and EMEA, Lippert is a leading global manufacturer and supplier of highly engineered components and customized solutions dedicated to shaping, growing and bettering the RV, marine, automotive, commercial vehicle and building products industries and their adjacent markets. Lippert also serves a broad array of aftermarket industries, supplying best-in-class products designed to enhance recreational pursuits, both on the road and on the water. From powerful towing technology and automated RV leveling systems to boating furniture and one-of-a-kind shade solutions, Lippert combines strategic manufacturing capabilities with the power of our winning team culture to deliver unrivaled customer service, award-winning innovation, and premium products to every industry and person we serve.
Lippert
52567 Independence Ct.
Elkhart, IN 46514
Email: marcom@lci1.com