Lippert to Exhibit at 2023 NWTF Convention in Partnership with Country Outdoors
February 16, 2023
Elkhart, Ind. — Lippert Components, Inc. (Lippert™), a supplier of a broad array of highly engineered components for the leading original equipment manufacturers ("OEMs") in the recreation and transportation product markets, and the related aftermarkets of those industries, announces today their breakout exhibition at the 2023 National Wild Turkey Federation (NWTF) convention February 16th - 18th, in partnership with entertainment and lifestyle brand Country Outdoors.
Lippert's participation in the NWTF Convention is a first for the company, where they plan to represent the RV, automotive and marine industries. Lippert has a booth set up (#851) to interact with guests and consumers while showcasing the latest innovative products from the Lippert family of brands.
Joining the NWTF Convention presents a new space for Lippert to connect with outdoor enthusiasts and give added visibility to their exhibiting brand partners, Country Outdoors, and retail partner Bass Pro.
"We are so excited to connect with new customers in new markets alongside the incredible duo behind the brand Country Outdoors, Zach and Mary Phillips," said Seth Carlson, Director of Customer Experience, Partnerships.
Jessica Roberts, Director of Customer Experience and Events, commented, "We are beyond excited to be exhibiting at the NWTF Convention for the first time. This is an excellent opportunity to showcase how the Lippert family of brands can enhance the outdoor lifestyle across industries."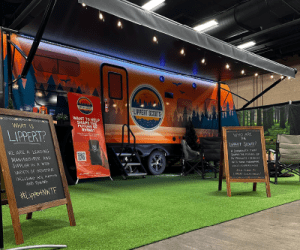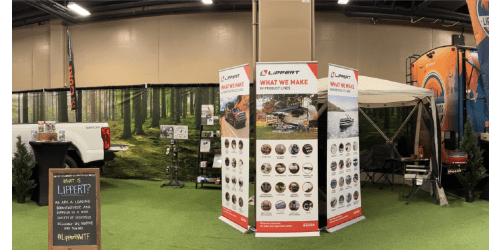 ---
From over 140 manufacturing and distribution facilities located throughout North America, Africa and Europe, Lippert™ supplies a broad array of highly engineered components for the leading manufacturers of recreational vehicles, automobiles, watercraft and prefab homes. It also operates in adjacent markets, including hospitality, transportation, construction and agriculture. Lippert™ serves a wide range of aftermarket segments, providing high-quality products for the recreational vehicle / caravanning, automotive and marine industries. With over 12,500 team members and a diverse portfolio of best-in-class brands, Lippert™ adopts a team-based business philosophy and has proven that, by putting people first, the possibilities for growth and development are truly endless.
Lippert
52567 Independence Ct.
Elkhart, IN 46514
Email: marcom@lci1.com