Lippert Unveils New LatchXtend™ RV Door Handle Extension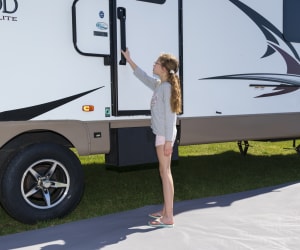 November 7, 2023
Elkhart, Ind. – Lippert Components, Inc. (Lippert™), a supplier of a broad array of highly engineered components for the leading original equipment manufacturers ("OEMs") in the recreation and transportation product markets, and the related aftermarkets of those industries, is proud to debut its new LatchXtend RV door handle extension. This newest addition to Lippert's extensive range of entryway accessories is poised to simplify the lives of RV owners.
For over a decade, the RV entry door latch has remained virtually unchanged, and while it may seem economical on the surface, it comes with inherent ergonomic challenges. Small paddle latches can be frustrating to use, especially when access is restricted by closed entry steps or when the latch is positioned too high off the ground. This makes it difficult for many, including children, seniors and those with limited mobility, to reach comfortably.
The Lippert LatchXtend RV door handle is designed to address these issues head-on. By extending the handle 14" and providing ample leverage, it offers a more user-friendly and accessible solution for engaging the entry door latch. With this new upgrade, Lippert aims to provide RV owners with the opportunity to make a simple yet highly beneficial upgrade to their entry door latch, ushering in a new era of comfort and convenience for the RV lifestyle.
"The LatchXtend latch and handle offer a level of convenience and functionality that has been notably absent from conventional RV paddle latches," said Mark Boessler, Senior Vice President of Sales for Lippert's Aftermarket Division. "With this product, we are providing RV owners with a game-changing advantage, one that significantly enhances the ease of access and operation of their entry doors. This product also represents our ongoing commitment to innovation and our dedication to enhancing the lives of our customers."
The LatchXtend RV door handle extension is now available to OEMs and will soon be available to the aftermarket. To learn more about LatchXtend, visit store.lci1.com/lippert-latchxtend-rv-door-handle-extension-2022301969.
---
With over 120 manufacturing and distribution facilities located throughout North America and EMEA, Lippert is a leading global manufacturer and supplier of highly engineered components and customized solutions dedicated to shaping, growing and bettering the RV, marine, automotive, commercial vehicle and building products industries and their adjacent markets. Lippert also serves a broad array of aftermarket industries, supplying best-in-class products designed to enhance recreational pursuits, both on the road and on the water. From powerful towing technology and automated RV leveling systems to boating furniture and one-of-a-kind shade solutions, Lippert combines strategic manufacturing capabilities with the power of our winning team culture to deliver unrivaled customer service, award-winning innovation, and premium products to every industry and person we serve.
Lippert
52567 Independence Ct.
Elkhart, IN 46514
Email: marcom@lci1.com