Quick Drop Tongue Jack by Lippert Components a Finalist for Rvbusiness Rise Award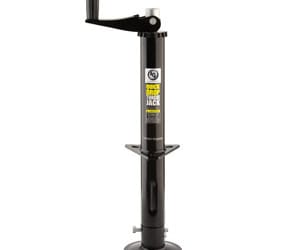 March 26, 2019
Elkhart, Ind. — Lippert Components, Inc. (LCI®) is pleased to announce that its Quick Drop® Tongue Jack was named a finalist in the inaugural RVBusiness RISE (Recognizing Innovation & Supplier Excellence) Awards program. The RISE Awards are designed to honor the best and most innovative new OEM and aftermarket products marketed by RV industry component suppliers for the 2019 model year.
Finalists were selected by an independent panel of judges based on innovation, functionality, customer acceptance, competitive impact, performance measures and other criteria.
"The judges deliberated privately, but several mentioned how difficult it was to make their selections as there were many innovative products among the entries. In that respect, the 2019 RISE Awards finalists have much to be proud of," said RVB Editor Bruce Hampson who, along with RVB Managing Editor Rick Kessler, facilitated the awards program.
LCI was recognized as a RISE Award finalist during the 2019 RV Industry Awards ceremony at "RVX: The RV Experience," hosted by the RV Industry Association (RVIA) on March 14 in Salt Lake City, Utah. At that time, the overall RISE Award winners in each category (OEM and Aftermarket) were announced live on stage.
The Quick Drop Tongue Jack by LCI is the first of its kind to allow the user to extend and retract the jack using a power drill and ¾" socket head. Users can simply flip over the manual crank handle to expose a ¾" hex nut, insert the socket head and use a power drill to extend and retract the Quick Drop Tongue Jack in seconds, without the exhaustive hand-cranking. The Quick Drop Tongue Jack saves time and energy when uncoupling and re-hooking the trailer and is competitively priced at about the same rate as other manual crank jacks on the market today.
"We're honored to be recognized as a RISE Award finalist for the Quick Drop Tongue Jack. This product is another example of LCI's dedication to serving our partners and consumers with innovative options to enhance the recreational lifestyle," said Mark Boessler, LCI's Vice President of Aftermarket Sales.
---
From over 140 manufacturing and distribution facilities located throughout North America, Africa and Europe, Lippert™ supplies a broad array of highly engineered components for the leading manufacturers of recreational vehicles, automobiles, watercraft and prefab homes. It also operates in adjacent markets, including hospitality, transportation, construction and agriculture. Lippert™ serves a wide range of aftermarket segments, providing high-quality products for the recreational vehicle / caravanning, automotive and marine industries. With over 12,500 team members and a diverse portfolio of best-in-class brands, Lippert™ adopts a team-based business philosophy and has proven that, by putting people first, the possibilities for growth and development are truly endless.
Lippert
52567 Independence Ct.
Elkhart, IN 46514
Email: marcom@lci1.com