Rvia Honors Two From Lippert Components as "40 Under 40" Award Winners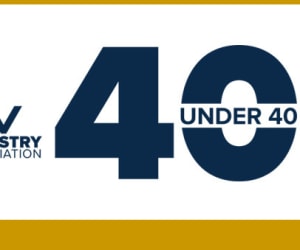 March 19, 2019
Elkhart, Ind. — Lippert Components, Inc. (LCI®) announces today Nicole Sult and Michilah Grimes have been named "40 Under 40" Award winners by the RV Industry Association (RVIA).
The annual "40 Under 40" Awards recognize current and future leaders in the RV industry who are under 40 years of age. RVIA developed the award program in 2017 to salute the achievements of those who exemplify leadership at their company and inspire others to help grow the RV industry.
Nicole Sult, LCI's Director of Customer Support, is a 2017 Salesforce Trailblazer Award Winner for Growth and the 2018 Salesforce Service Trailblazer of the Year and has helped increase the quality of customer interactions utilizing Salesforce automation. "By using new and more efficient processes, we were able to accommodate growth and maximize the number of contacts our team can effectively handle. Continually refining our customer relationship strategy really supported our volume as we continue to expand and grow," said Sult. Sult leads LCI's Customer Service teams, serving a wide variety of customer segments. Under her leadership, LCI's Customer Service teams support customer inquiries including technical troubleshooting, operational questions, parts sourcing, third party insurance claim administration and works with our information technology teams to develop and implement new technology available internally as well as to LCI customers.
"Nicole has a great ability to evaluate business practices, find the gaps and utilize efficiency-oriented resources to help us continue to evolve and provide better service to our customers. She is always looking for ways to find a better result for the customer and make lives better for the team at every level. These are the key components that help us stay prepared for the future and make her an incredible pillar to our team," commented April Klein, LCI's Vice President of Customer Support Services.
Michilah Grimes, LCI's Director of Philanthropic Partnerships, has spearheaded the Company's community outreach and volunteerism efforts over the last four years. She has led the Company's efforts to collectively complete over 300,000 hours of community service and has successfully implemented Acts of Service, a web-based community service portal that connects volunteers with local nonprofits in need of volunteer assistance. Additionally, Grimes oversees over $1 million in Company donations on an annual basis, working with community partners and nonprofits to create a greater social impact. Grimes has been a Board Member for the Boys & Girls Club of Elkhart County for the past two years and, alongside Jason Lippert, has co-chaired one of the region's largest fundraising events, Bids 4 Kids, since 2010.
"Michilah and Nicole are tremendously passionate team members. They helped pioneer some of our most important initiatives and have positively influenced our business practices and our relationships with partners, consumers, and community members," stated Jason Lippert, LCI's CEO. "They are both truly deserving of this honor."
The 2019 "40 Under 40" Award recipients, selected by members of the RV Industry Association Trade Shows and Events Committee, were recognized at the 2019 RV Industry Awards held during RVX on March 14th in Salt Lake City, Utah.
---
From over 140 manufacturing and distribution facilities located throughout North America, Africa and Europe, Lippert™ supplies a broad array of highly engineered components for the leading manufacturers of recreational vehicles, automobiles, watercraft and prefab homes. It also operates in adjacent markets, including hospitality, transportation, construction and agriculture. Lippert™ serves a wide range of aftermarket segments, providing high-quality products for the recreational vehicle / caravanning, automotive and marine industries. With over 12,500 team members and a diverse portfolio of best-in-class brands, Lippert™ adopts a team-based business philosophy and has proven that, by putting people first, the possibilities for growth and development are truly endless.
Lippert
52567 Independence Ct.
Elkhart, IN 46514
Email: marcom@lci1.com