Team Members at LCI Collectively Raise Over $45,000 for the 2020 In-House Adopt-a-Family Program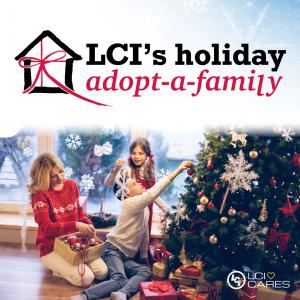 December 23, 2020
Elkhart, Ind. — More than 100 Lippert Components, Inc. (LCI®) families will benefit from the 2020 in-house Holiday Adopt-a-Family program as over $45,000 was raised by LCI team members to go towards gifts for those participating in the program.
Each year when the holidays roll around, LCI usually gears up and comes together to assist various families in the community by raising funds to lessen their financial burdens caused by the demands of the holiday season. Since the program was launched nine years ago, in fact, more than $200,000 has been raised to help local families and nonprofit organizations in need during the holidays. This year, LCI leaders decided to switch gears and keep the program in-house so that LCI's very own team members could receive support to make their holidays extra special despite the hardships they may have been facing due to the COVID-19 pandemic. With the financial demands of the season combined with the general ambiguity of the current year, LCI saw fit to show its team members that they care about them and wholeheartedly stand with them, support them, and are compassionate about their needs – this year and always.
"Our team members are the heartbeat of our company; our consistent progress wouldn't be possible without the drive, dedication, and hard work they bring to LCI day in and day out," said Michilah Grimes, Director of Corporate and Community Impact. "This is our way of showing them that their hard work doesn't go unnoticed and that we are so appreciative of the outstanding effort they execute day after day. This year presented the perfect opportunity to give back to them, because they truly deserve it."
With such an abundant turnout of gifts from the contributions of all who donated, LCI leaders and team members were delighted to able to spread holiday joy to their fellow team members and their families. At the same time, though they remained anonymous, the recipients' expressions of gratitude for the support they've received have been immensely sincere and heartfelt. "I cannot believe I was chosen to receive gifts for my family. As a single mom, I do my best and work hard to make life the best it can be for my family, and it's super cool that I don't have to stress or worry about making Christmas great this year for my kids," said one of LCI's team members who was selected for the program. "I am just grateful!"
In what was once known as a "normal" year, LCI team members would have had the chance to personally shop for gifts and later get together for wrapping parties, furthering the fun of uniting during the holidays. Unfortunately, that option was not available this year due to COVID restrictions and the goal of keeping everyone safe. Gifts were instead purchased using the money raised and shipped directly to the families' homes. Nonetheless, though, the holiday spirit is still very much alive and well throughout the company.
"With so many uncertainties this year, it's so heartwarming to see our team members still come together to make the holidays special for their fellow colleagues," Grimes continued. "I can't express enough how proud I am of all of our team members for joining forces and making this happen. We are so ecstatic about everyone's willingness to help each other out in any ways they can – during the holidays and on any given day. I am looking forward to all of the incredible things we can accomplish together in the days, weeks, months, and years to come as we unite for the good of those around us."
---
With over 120 manufacturing and distribution facilities located throughout North America and Europe, Lippert™ is a leading, global manufacturer and supplier of highly engineered components and customized solutions dedicated to shaping, growing, and bettering the RV, marine, automotive, commercial vehicle, and building products industries, and their adjacent markets. Lippert also serves a broad array of aftermarket industries, supplying best-in-class products designed to enhance recreational pursuits, both on the road and on the water. From powerful towing technology and automated RV leveling systems, to boating furniture and one-of-a-kind shade solutions — Lippert combines strategic manufacturing capabilities with the power of our winning team culture to deliver unrivaled Customer Service, award-winning Innovation, and premium Products to every industry and person we serve.
Lippert
3501 County Road 6 East
Elkhart, IN 46514
Email: marcom@lci1.com