A Leading Supplier of Recreational Vehicle Products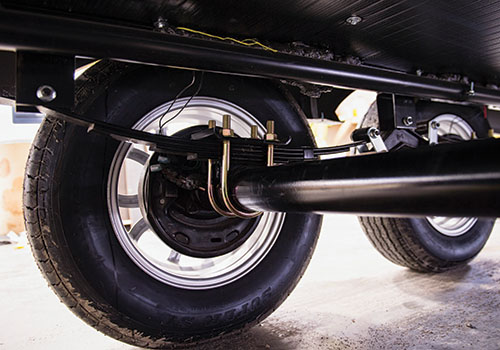 Axles
Lippert axles are built with the highest precision and quality, using state-of-the-art equipment and processes. We offer a full line of reliable spring, torsion and heavy-duty models in multiple capacities.
Chassis
Lippert has long been a leader in steel towable RV, trailer, park model and residential housing chassis. We also build custom toter trailers, skid-and-drag frames, modular carriers and similar products.
5th Wheel Products
We offer 5th wheel hitches and pin boxes in a range of capacities and styles. We also provide a number of mounting options to fit every towing need, including OEM puck system products.
Air Conditioners
We carry a wide selection of rooftop air conditioners with high energy efficiency and quick cooling capacity. Options include manual, single-zone and multi-zone controls to maximize user comfort.
Anti-Lock Braking System
Lippert understands safety, that's why we develop products to support safe towing experiences. Our anti-lock braking system, (ABS) combines anti-lock braking functionality, connected technologies and our OneControl® ecosystem work together so you can focus more on your RVing adventure and making memories that will last a lifetime.
Appliances
Furrion appliances are durable and efficient while offering a sleek, modern look. Our growing lineup supports the mobile lifestyle with innovative stoves, cooktops, microwaves, refrigerators and more.
Awnings
Lippert is a leader within the awning space, offering a wide selection of awnings, screen rooms and accessories. We offer manual and power options for patios, slide-outs and windows.
Camper Tent Solutions
We create quality fabric tents for pop-up trailers, expandable RV trailers and class B vans. We use the fabric that you supply to cut and sew custom tent solutions that meet your exact specifications.
Cargo & Storage
Our complete line of cargo management and on-board storage solutions provides alternative, space-saving options for RVers and trailer owners. We offer trays, bins, boxes, carriers, bike racks and beyond.
Class B Van Products
For class B camper vans, our premium products provide functionality, safety and style. Our growing line includes roof systems like the Vela Pop Top, custom windows, running boards and grille guards.
Entry Doors
At Lippert, we design and build each entry door from start to finish to ensure consistent quality and premium craftsmanship. We've developed features like lighted thresholds, sturdy kick panels, friction hinges and much more.
Ramp Doors
Our innovative and highly engineered manual and power ramp doors make recreational pursuits more enjoyable. We offer multiple flooring options as well as steps and step accessories.
Access & Baggage Doors
Lippert RV access and baggage doors have quality, extruded aluminum inner and outer frames, foam core construction, piano hinges, internal weep systems and other customizable options.
Electronics
Our electronics provide a connected experience on the road. We employ cutting-edge technology to equip RVers with modern, smart solutions that let them monitor, control and interact with their rig.
Fresh Water & Waste Management
Lippert offers a variety of reliable fresh water, plumbing and waste management products to make outdoor adventures easier. Our lineup includes the Floë drain-down system, Waste Master hose, Flow Max pump and more.
Furniture & Mattresses
Our complete line of furniture combines versatile construction with a modern design approach to offer comfortable, expertly engineered interior options for the recreational lifestyle.
Kitchen & Bath
Lippert offers a variety of premium kitchen and bath products to enhance the mobile lifestyle and make it easy to upgrade for a modern look. We carry tub and shower surrounds, faucets and more.
Leveling & Stabilization
We offer industry-leading leveling and stabilization solutions to make RVing safer and less stressful. We carry everything from automatic leveling systems to power stabilizers and stabilization accessories.
Outdoor Living Products
Lippert is a leading supplier of outdoor living products and accessories. We're passionate about life spent outdoors, and we're proud to offer products like outdoor TVs, furniture, coolers, cookware and beyond.
Power & Motion Products
From slide-outs, bed-lifts and lifting jacks to powered RV awnings, Lippert has the foremost expertise on power and motion systems. We source and manufacture our products by maintaining high-quality, in-house processes.
Safety & Security
We enable RVers to stay connected with our smart technology and security systems. Our cutting-edge RV safety systems include OneControl technology, the Tire Linc TPMS, the Echo brake controller and many more.
Slide-Outs
At Lippert, we maximize interior RV space by minimizing weight, simplifying the fitting process and safeguarding units from outside elements. We manufacture a premium line of in-wall, above-floor and through-frame systems.
Steps
We offer a broad range of RV steps that are versatile, durable, stable and time-tested. Our steel and aluminum steps are available in multiple sizes with manual and power configuration options to suit every need.
Water Heaters
Our highly engineered water heaters are designed with advanced features to promote user comfort and safety. We employ features like over-temperature protection, blower-block protection and automatic shut-off.
Windows
Lippert is a leading supplier of premium, quality windows for the RV industry. With our extensive inventory of windshields and side windows, we ensure prompt service and delivery for all RV makes and models.