Lippert Anti-Lock Braking System for Trailers
Industry-First Standard ABS for Towable Trailers
The Lippert trailer anti-lock braking system is innovative towing technology designed to let you haul safer and smarter than ever. It combines the best of ABS and connected RV technology to deliver a comprehensive safety platform for all trailer types, particularly travel trailers, 5th wheels, cargo and equestrian trailers.
Our ABS system works with the trailer brakes, fully integrating with the existing platform to deliver exceptional towing safety.
What Our Customers Are Saying
"I was amazed that the trailer was not going anywhere. Many times, I have had to panic stop, and looking to see where that trailer is going. With this system you don't even have to worry about it."
Georgie & Michael Renberg
"This should be standard on all trailer like tow chains and everything else with campers & trailers. It amazes me in the last decade that on one else has done this."
Steven Cook
"You don't manage anything different, just drive the truck. Its seamless you would not know you had it, until you needed it. Just keep it simple, simple things don't break, they work. This is the solution that I am impressed with."
Doug Horn
Lippert Cares About Safety
Developed from the ground up to create a comprehensive RV safety solution, the Lippert Anti-Lock Braking System™ or (Lippert ABS) offers control and confidence unlike any other towing product. This integrated system works with the trailer's brakes to prevent wheel lock-up and enhance control over the vehicle-trailer combination, particularly in slippery or abrupt braking situations. When the driver encounters an emergency braking situation, instead of the trailer fishtailing off to one side and pulling the vehicle into a dangerous drift, the Lippert ABS system helps the driver maintain traction and control, bringing the vehicle and trailer safely to a stop.
Thoroughly Tested in the Real World
Additional Features:
Promotes exceptional towing safety and driver confidence
Improves control on slippery roads and in emergency braking situations
Integrates with trailer brakes to prevent trailer wheel lock-up
Dynamic Brake Boost temporarily boosts brake torque for more stopping performance in emergency or harsh stop situations
Autoconfiguration allows the module to learn previously programmed values, like tire size, track width, number of axles and orientation — simplifying OEM installation
Ready to connect to the OneControl app and Compass Connect
App provides digital odometer, system monitoring and more
Applicable across virtually all trailer types (2-6 wheels, 1-3 axles)
Works with electromagnetic drum brakes (7-way wiring connector required)
Fully compatible with or without OEM or aftermarket brake controllers
Non-intrusive system will not interfere with trailer gain settings
All-encompassing kit includes everything needed for complete installation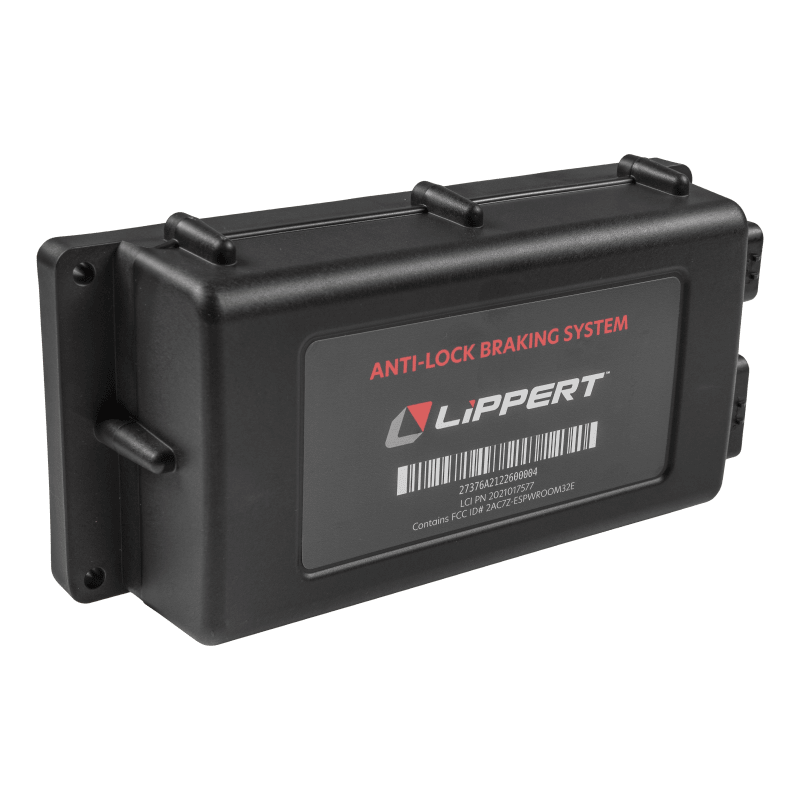 OneControl® Compatible
The Lippert trailer ABS system is prepped to work with the OneControl™ app, so it can be paired with the driver's phone to monitor speed, status and more. The system also operates independently from the vehicle's brake controller. Whether a brake controller is installed or not – and whether it's a factory controller or aftermarket – Lippert ABS will function to keep the trailer wheels from locking up, and the non-intrusive system also will not interfere with the controller's gain settings.
Learn More
True Course™ Anti-Sway Technology
Lippert ABS leverages the power of True Course to keep trailer sway under control, no matter the situation.
Activates trailer brakes independently of tow vehicle to mitigate effects of trailer side-to-side sway
Thoroughly tested to ensure compatibility across multiple makes and models
LED indicator on module shows when system is active and ready
Combats sway from side winds, slippery road conditions, sudden movement and emergency maneuvers
Advanced patent-pending microprocessor technology electronically detects dangerous trailer movement
Bluetooth® connectivity offers status and notifications via OneControl mobile applications
Shop RVs with Trailer ABS
The Lippert trailer ABS system is currently available on Grand Design RV models, including select 2022 Reflection, Momentum and Solitude units.
Consult your local RV dealer for availability on specific units
Enter today for your chance to win an ABS system for your RV from Lippert!
Enter now