Solera makes it simple.
We've revamped our entire awning collection to make your life simpler. The Solera Universal line of awnings and accessories makes it simple and easy to replace your awning. Featuring universal application, Solera Universal products work with competitor awning brands as well as many of Solera's most popular awnings and accessories. With a wide variety of innovative Solera Awning models and accessories to choose from, Solera Universal saves time, money and stress. Find out below which brands and products work with the Solera Universal line.
Choose from these Universal Solera Awning models.
Solera Universal works with any of these brands:
Universal Hardware fits the following Dometic® 8' extension awnings models: 8500, 9000, 9100, Sunchaser and Weather Pro.
Universal Hardware fits the following Carefree™ 8' extension awnings models: Spirit, Fiesta, Simplicity, Traveler and Eclipse.
Universal Hardware fits the following Solera 8' extension awnings models: 18V Power, Smart Arm 12V, Hybrid and Classic Manual.
Power Up
Power up your mobile lifestyle with Solera Smart Arm 12V Power or 18V Battery Operated awnings. Save yourself from stress and the added time of manually setting up your awning with Solera powered awnings.
Upgrade
Upgrade your current manual or power awning with Solera Universal Hardware. Solera Hybrid and Power awnings automatically set up for camping as they extend.
Fix It
Tired of your old awning? With our newly designed Solera Universal hardware, replacing your broken or worn out awning has never been easier, no matter what awning brand you have.
*Dometic® is a registered mark and logo owned by Dometic Sweden and A&E is a mark used by Dometic Group.
**Carefree™ and the Carefree logo are a mark and logo used by Carefree of Colorado, member of The Scott Fetzer Co.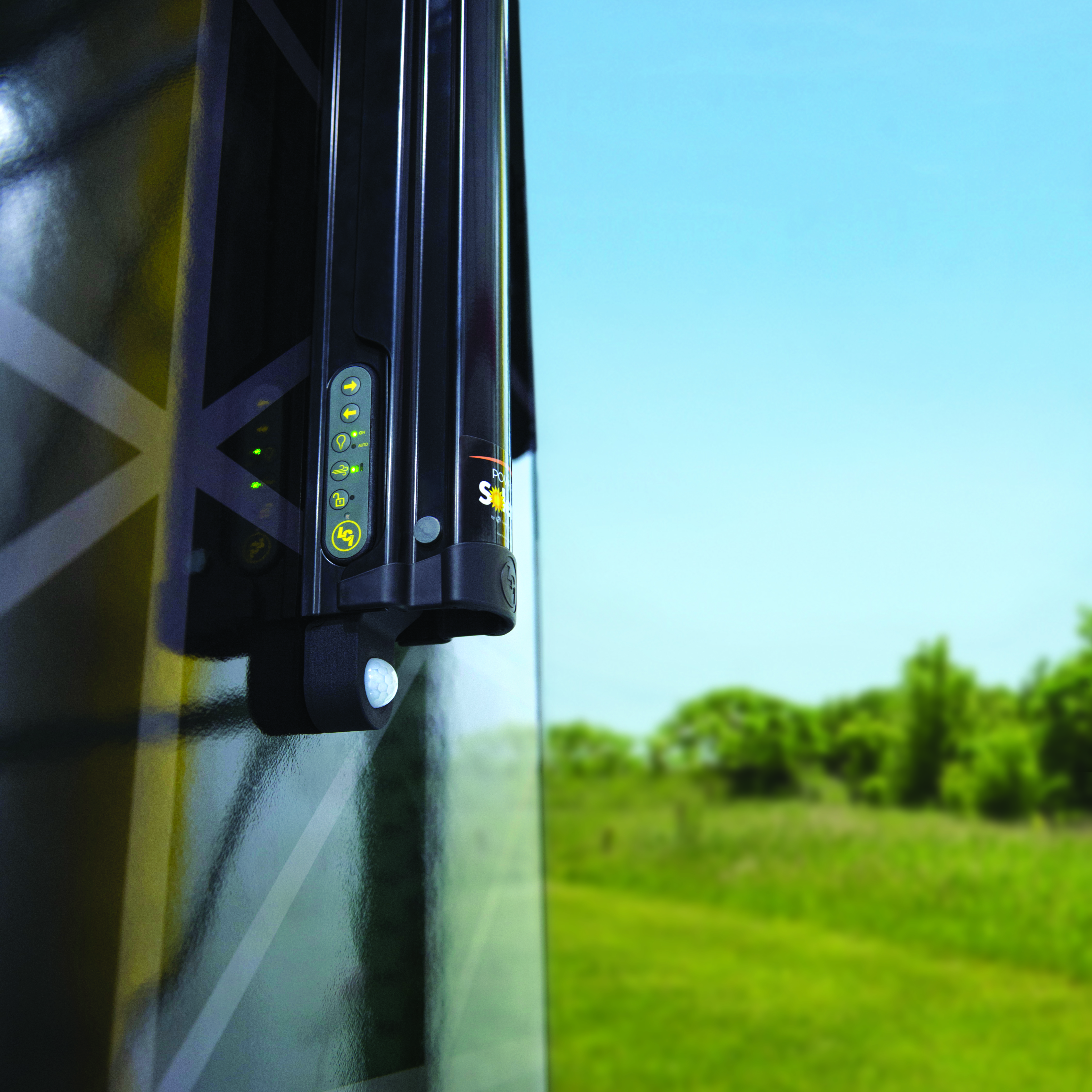 Solera Smart Arm
The first ever programmable patio awning for your RV or trailer is here. The Solera Smart Arm 12V Power Awning incorporates several intelligent features sure to enhance everyone's camping experience. Best of all, these new features are all accessible from a weatherproof controller built right into the awning arm itself, making for easy and convenient access without having to go inside the RV to operate the switches. It's not called the Smart "ARM" for nothing!
Shop Now
Universal Slider Fabrics
Stop wasting time by custom ordering slide topper fabric every time you get an order, and save room for more inventory! Our Slide Topper Replacement Fabric boxes are compact yet durable and are a UNIVERSAL fit, meaning no more guesswork when it comes to replacing slide topper fabric. Works with: Solera, Dometic® and Carefree™.
Shop Now